TEXAS A&M PIVOTS FROM IN-PERSON SYMPOSIUM TO ONLINE CONVERSATION SERIES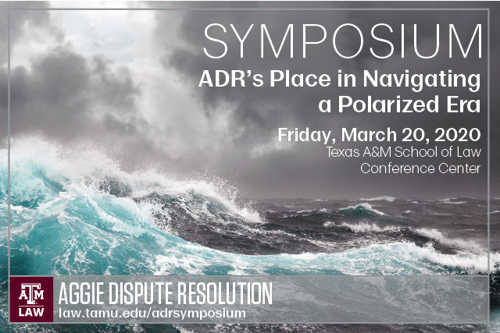 When COVID-19 crashed into our lives earlier this year, Texas A&M Law leapt into action and turned our planned March 2020 Dispute Resolution Symposium into an online conversation among our presenters. Our excellent roster of scholars--troupers all--engaged each other thoughtfully on our theme: ADR's Place in Navigating a Polarized Era. We were just learning to use Zoom, but the technology served us well, and the result was better than we could have hoped. One presenter later thanked us for "organizing it, re-organizing it, and including me!" Others called the day "interesting," "inspiring," "wonderful," "satisfyingly stimulating," and ultimately "a fascinating day among wonderful folks."
We couldn't agree more!
To share this special occasion more broadly, the Aggie Dispute Resolution Program will post recorded video conversations and interviews with our symposium authors, beginning in November, at our website. The first postings will focus on the value (or not, that's the question, isn't it?) of listening skills in responding to polarizing topics and debates:
Professor Jennifer Reynolds will discuss her article, Talking About Abortion (Listening Optional), with Professors Nancy Welsh and Cynthia Alkon.
Jill DeTemple will discuss The Spaces We Make: Dialogic Classrooms and Social Transformation with Professors Welsh and Peter Reilly.
Watch for announcements as we post our video conversations and interviews with our other presenters and authors: Robert Baruch Bush, Jonathan Cohen, Noam Ebner, Deborah Eisenberg, Howard Gadlin, Nancy Rogers, and Sharon Press. All of the symposium articles will be published in the Ohio State Journal on Dispute Resolution and the Texas A&M Law Review. Look for their publication in late 2020.