PROFESSOR CYNTHIA ALKON SHINES LIGHT ON NEXUS BETWEEN CRIMINAL JUSTICE AND DISPUTE RESOLUTION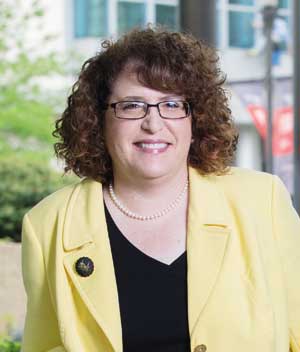 Professor Cynthia Alkon is on a mission – to make all of us aware of the important connections between criminal justice and dispute resolution and to encourage us to work for reform. Her groundbreaking book, Negotiating Crime: Plea Bargaining, Problem Solving, and Dispute Resolution in the Criminal Context, co-authored with Professor Andrea Schneider, is the first of its kind to cover all the processes through which U.S. criminal cases are resolved beyond trials.
Professors Alkon and Schneider continued this theme in their co-authored article for the January 2020 issue of Dispute Resolution Magazine, "Our Criminal Legal System: Plagued by Problems and Ripe for Reform." They tackled one specific area for reform in a third publication, "Bargaining in the Dark: The Need for Transparency and Data in Plea Bargaining," published in 2020 in the New Criminal Law Review.
Professor Alkon made multiple presentations emphasizing the relationships between criminal practice and dispute resolution.
In October, 2019 she participated in the 13th Annual AALS ADR Section Works-in-Progress Conference and presented "Increasing Empathy and Compassion to Decrease Mass Incarceration."

Later that month, she presented "Have Problem Solving Courts Changed the Practice of Law?" as part of the Cardozo Journal of Conflict Resolution's symposium on "Innovations in Justice: Experiments in Restorative Processes."

At the American Association of Law Schools' annual conference in January 2020, she was a panelist on "Galvanizing Reform for Plea Bargaining in White Collar and Other Crimes."

In February, 2020, she presented "How to Care More and Imprison Less: Empathy and Compassion in the Criminal Legal System" at

Experimental ADR, Works-in-Progress Conference, University of Oregon School of Law.

In July, 2020, she presented on "Constitutional Issues in Plea Bargaining During COVID-19" for the Deason Criminal Justice Reform Center at Southern Methodist University.

In August, 2020, she co-organized a Criminal Law and Criminal Procedure Workshop at the annual conference of the Southeastern Association of Law Schools and spoke on "COVID-19 Goes to Court: Survey Examining Changes in Processing Criminal Cases Due to the Pandemic."
In that last presentation, Professor Alkon discussed an innovative empirical project she has undertaken – surveying judges, criminal defense counsel, and prosecutors regarding the impact that COVID-19 has had on processing and resolving criminal cases. She has received over 500 responses from judges, defense lawyers, and prosecutors around the country. The National Association of Criminal Defense Lawyers, National Association of District Attorneys, California Judges Association and other national and local groups assisted in distributing the survey to their members. Watch for the results in Spring 2021.
In this academic year, Professor Alkon is introducing a new course to emphasize the relationship between criminal justice and dispute resolution. Entitled Dispute System Design: Hot Topics in Criminal Legal Reform, the course will introduce students to the theory and practice of dispute system design and will use it as a framework to examine how to make systemic change in our criminal legal system. The course will build on events from the spring and summer of 2020, when the killing of George Floyd led to renewed Black Lives Matter protests and calls for defunding or reforming policing agencies. These protests built on existing calls for reform to reduce systemic racism in our criminal legal system. Criminal legal reform is a bi-partisan effort with wide agreement across the political aisle on the importance of reducing or eliminating mass incarceration, addressing increased criminalization, and undertaking police reform. A system-wide approach is required to holistically redesign and make meaningful reform in the criminal legal system. Reform topics to be discussed in the class will include: mass incarceration; defunding the police/police reform; the work of progressive or reforming prosecutors; and restorative justice. Students will examine specific ways that lawyers can contribute to designing change as part of ongoing efforts to reform the criminal legal system in the United States.
Finally, in her new role as Director of Texas A&M Law's Program on Criminal Justice, Law & Policy, Professor Alkon has organized a series of events in Summer and Fall 2020, including a "pop-up" class on the Black Lives Matters protests in Fort Worth and a film screening for The State of Texas v. Melissa. The latter is a film that was shown at the (virtual) Tribeca Film festival and tells the story of the first Latina on death row in Texas. The case is still on appeal. The film was followed by a panel discussion with the filmmaker and one of the defendant's lawyers. The film and the discussion raised serious concerns about the guilt of Melissa Lucio.