TAMU Law Answers
Requesting Bond, Parole, and Custody Review During COVID-19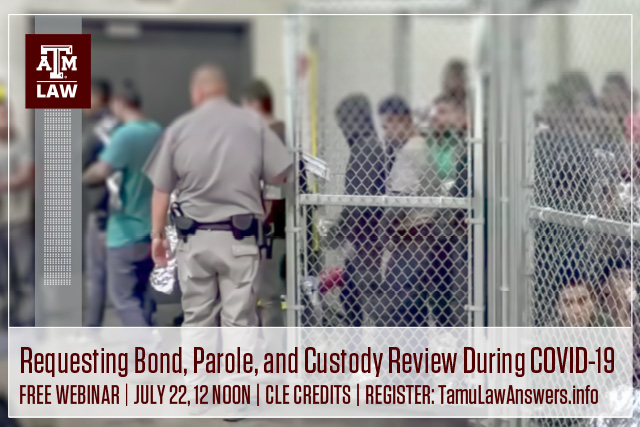 This free CLE webinar provides immigration practitioners with the latest developments and guidance on various procedures to help noncitizens get released from immigration detention, particularly those who are medically vulnerable to COVID-19. Attendees asked questions of our experts beforehand and in an interactive Q&A session. 1.5 hours of CLE credit* approved.
Webinar Materials:
Topics:
Requesting subsequent bond redeterminations based on COVID-19
Legal developments in bond and ability to pay
Submitting humanitarian parole requests related to COVID-19
Challenging parole denials, including blanket/boilerplate denials
Requesting custody review after a final order of removal
The impact of COVID-19 on delays in removal
Presenters:
Date and Time:
Wednesday, July 22, 12:00 noon - 1:30 p.m. Central
*CLE info:
This course has been approved for Minimum Continuing Legal Education credit by the State Bar of Texas Committee on MCLE in the amount of 1.5 credit hours, of which 0.0 credit hours will apply to legal ethics/professional responsibility credit.
Texas A&M School of Law, as CLE sponsor, submitted the CLE attendance for this course for the attendees of the live webinar to the State Bar of Texas on July 23, 2020.
Viewing the video on YouTube is

NOT acceptable for accredited CLE hours

but is adequate for self-study, per the State Bar of Texas MCLE department. Soon we will be able to provide a link to a platform in which you can watch the video for accredited CLE hours. The recorded video version of the webinar will have a different course number than the live webinar CLE course.
---
While the panelists are all attorneys, they will be discussing the law generally, and nothing in the webinar should be considered as legal advice. Attendees should consult their own legal advisor to address their own unique circumstances.