TAMU Law Answers
"Immigration Practice and Policy During the Pandemic" Webinar Series
Human Rights at the Border During COVID-19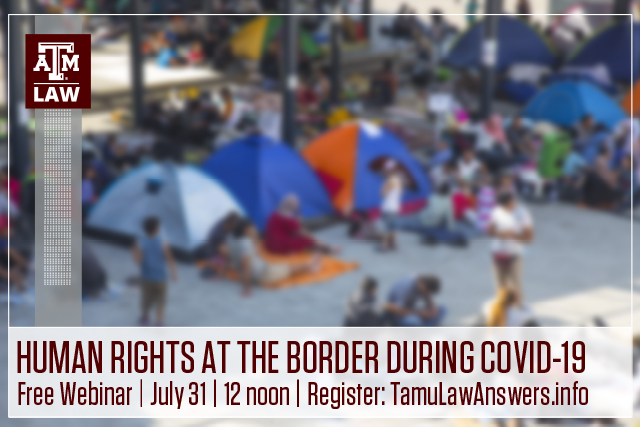 This free webinar explores the current human rights situation at the U.S.-Mexico border, including the intersection of immigration and public health concerns.
Webinar materials:
Discussion Topics:
The exclusion of asylum seekers using public health law
The impact of the pandemic on legal cases of asylum seekers who are required to remain in Mexico pursuant to the Migrant Protection Protocols
The situation of asylum seekers stranded in Mexico, including risks to health and safety
The spread of COVID-19 in migrant camps such as Matamoros just south of the border
The role of international law and international organizations in addressing the human rights situation at the border
Presenters:
Background Information:
Date and Time:
Friday, July 31, 12:00 noon - 1:00 p.m. Central
While the panelists are all attorneys, they will be discussing the law generally, and nothing in the webinar should be considered as legal advice. Attendees should consult their own legal advisor to address their own unique circumstances.