TAMU Law Answers Webinar Series
Legal Issues in the Age of the Coronavirus
NAVIGATING THE WATERS OF BUSINESS BANKRUPTCY IN THE WAKE OF THE CORONAVIRUS PANDEMIC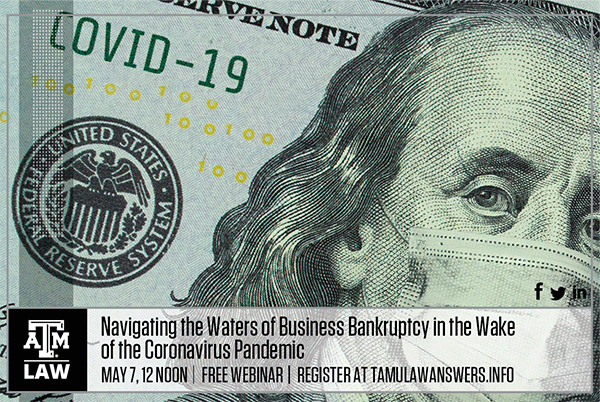 Access the webinar:
Experts from the Texas A&M Law faculty and the local legal community share practical, fact-based information about business bankruptcy during the Coronavirus pandemic in this FREE webinar. Presenters answered questions submitted during registration and submitted live in the webinar Q&A.
Discussion Topics:
Overview of bankruptcy relief and tools available for business debtors
Chapter 11 Small Business Reorganization Act (including CARES Act amendments)
Business real estate issues in bankruptcy
Commercial leases and mortgages in bankruptcy
Presenters:
Moderator: Neil Sobol, Texas A&M University Professor of Law and Director of Legal Analysis, Research & Writing Program
Date and Time:
Thursday, May 7, 12:00 noon - 1:00 p.m. Central
While the panelists are all attorneys, they will be discussing the law generally, and nothing in the webinar should be considered as legal advice. Attendees should consult their own legal advisor to address their own unique circumstances.