CARES Act Webinar Series
Individual Incentives Under the CARES Act: What's in it For Me?
Learn how the CARES Act affects you.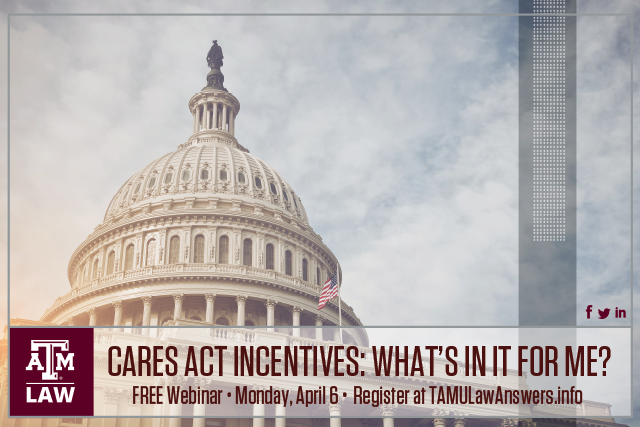 Access the Webinar:
Texas A&M Law faculty experts share practical, fact-based information regarding how the CARES Act is affecting those of us in Texas in this free webinar.
Discussion Topics:
The Basics of Rebate Checks: Who Qualifies, How Much, and Other Essential Information
Rebate Check Implementation Issues
IRS "People First" Initiative
Changes to IRS Operations
Changes to Retirement Account Rules
The Charitable Contribution Deduction
Presenters:
Terri Helge, Professor of Law and Associate Dean of Academic Affairs
Gary Lucas, Professor of Law and Senior Associate Dean
Bob Probasco, Senior Lecturer and Director, Low Income Tax Clinic
Moderator: Luz Herrera, Professor of Law and Associate Dean for Experiential Education
Webinar 1 Details:
Monday, April 6, 2020, 12:00 noon - 1:00 p.m. Central
While the panelists are all attorneys, they will be discussing the law generally, and nothing in the webinar should be considered as legal advice. Attendees should consult their own legal advisor to address their own unique circumstances.