Alumna Profile: Cheryl Massey Barnett, EPA Region 6, Office of Regional Counsel, Branch Chief, Air Enforcement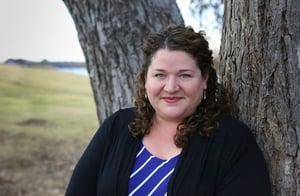 Cheryl Massey Barnett is a graduate of Texas Wesleyan University School of Law. She currently works at the US Environmental Protection Agency (EPA) Region 6 as a Branch Chief in the Office of Regional Counsel's Air Enforcement Branch. Region 6 of the EPA addresses environmental issues in Texas, Arkansas, New Mexico, Oklahoma, Louisiana, and 66 Native American Tribes. Barnett has been involved in environmental issues since her family moved to a small Texas town with significant environmental issues. She earned her Bachelor's degree in Environmental Science with a minor in Political Science from Texas Christian University intending to pursue environmental law. She graduated from Texas Wesleyan University School of Law in 2004. During law school, she interned at both EPA Region 6 and the Texas Commission Environmental Quality. Following graduation, she worked for non-profit organizations in DFW and then worked in Houston representing domestic abuse victims. Barnett was in and out of court every day, handling custody cases, protective orders, and providing support to victims.
In 2007, Barnett moved to the EPA Region 6 office. Barnett found her experience at the non-profit helped develop her litigation skills and equipped her to litigate and negotiate environmental enforcement cases at the EPA. Early in her EPA career, Barnett served as a staff attorney in the air enforcement group, which meant daily meetings consisting of settlement negotiations for administrative and judicial cases, case analyses, and researching federal applicability of state laws. As Branch Chief, Barnett still attends those meetings but has a more advisory role on-air enforcement cases in EPA's Region 6 coordinating enforcement with state counterparts, EPA headquarters in Washington D.C., and the Department of Justice. She is also currently working on a Clean Air Act case where she serves as Special Counsel for the Department of Justice.
Within the EPA, attorneys are divided by media, meaning that there are dedicated groups of attorneys who handle water, air, and waste enforcement actions. Although Barnett has had some cases involving water and the Resource Conservation and Recovery Act, her primary focus is the enforcement of the Clean Air Act. Enforcement cases originate in several ways. For example, for the last several years, the EPA has conducted flyovers of energy extraction sites in the Permian Basin and the Eagle Ford Shale Basin south of San Antonio. Since these sites are often unmanned, the EPA sends helicopters mounted with FLIR cameras to observe any unauthorized emissions. Also, if there is a hurricane or force majeure event in Region 6, EPA responds and addresses non-compliance situations. Historically, the air enforcement group has enforced Clean Air Act compliance at coal, power, gas, paper, and cement plants. Most recently, Barnett settled a significant paper mill compliance case in Arkansas. Barnett notes that Region 6 is often busy due to its proximity to the Gulf of Mexico, a major hub for energy production.
During law school, Barnett found it helpful to take courses in environmental law because it gave her a baseline understanding of both the terminology as well as how the environmental law field operates. She encourages law students interested in pursuing environmental law to take as many environmental courses as they can throughout law school, even if they seem more general, such as administrative law. She also said that the law clinics and her internships throughout the summers guided her career path. Barnett commented that it is hard for students to picture what their day-to-day life will look like after law school; however, doing internships and clinics can make that picture clearer. Barnett explained that the EPA, even prior to the global pandemic, allowed her to have a more flexible schedule. Barnett also noted that any students interested in pursuing a career at the EPA or the federal government, in general, should look into internships and taking courses within the subject matter.