TAMU Law Answers Webinar Series
Commercial Tenant Considerations in the Age of COVID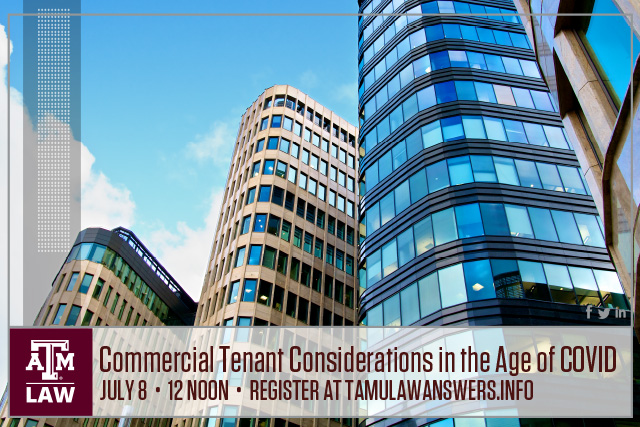 This free webinar will address key issues facing commercial tenants as a result of the COVID-19 pandemic. Speakers will discuss legal issues related to lease negotiations, selling businesses, adding investors, and the eviction process. During the one-hour webinar, attendees will be able to ask questions of our experts.
Webinar materials:
Discussion Topics:
Drafting & Negotiating Leases
Panelists:
Luz E. Herrera – Attorney & Professor, Texas A&M University School of Law
Moderator: Peter Reilly – Professor of Law, Texas A&M University School of Law
Date and Time:
Wednesday, July 8, 12:00 noon - 1:00 p.m. Central
While the panelists are all attorneys, they will be discussing the law generally, and nothing in the webinar should be considered as legal advice. Attendees should consult their own legal advisor to address their own unique circumstances.