TAMU Law Answers Webinar Series
Legal Issues in the Age of the Coronavirus
WORKPLACE IMPLICATIONS AFTER THE COVID-19 CRISIS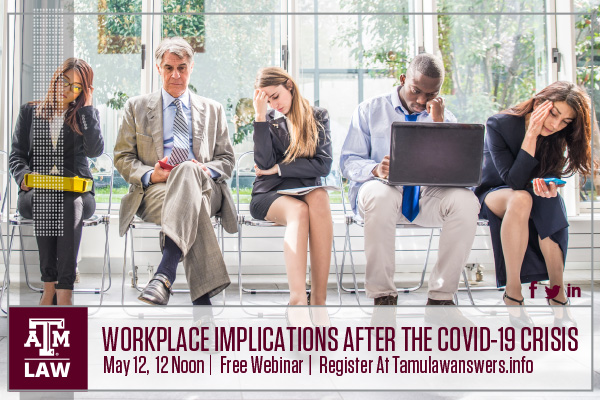 Workplace experts from Texas A&M Law faculty and local firms share practical, fact-based information regarding Employer/Employee considerations in restoring operations after the COVID-19 shutdowns affecting us in Texas in this FREE webinar.
Webinar materials:
Discussion Topics:
Guidance from the Federal Equal Employment Opportunity Commission
Unemployment and Sick Leave
Impacts for Non-Citizen Workers
Panelists:
Date and Time:
Tuesday, May 12, 12:00 noon - 1:00 p.m. Central
While the panelists are all attorneys, they will be discussing the law generally, and nothing in the webinar should be considered as legal advice. Attendees should consult their own legal advisor to address their own unique circumstances.