2L Haley Varnadoe Interns with the Texas Commission on Environmental Quality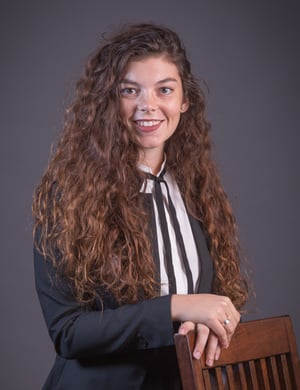 2L Haley Varnadoe is from Marietta, Ohio, and earned her Bachelor of Science in Economics and Finance from Centre College in Danville, Kentucky. Haley knew from a young age that she cared deeply about environmental causes and sought out experiences in the political and philanthropic realms before and during college. In college, she interned with the Foundation for Appalachian Ohio (FAO), a nonprofit organization focused on preserving and promoting philanthropy in the 32 counties of Appalachian Ohio. At FAO, Haley interned under the Foundation's in-house counsel. She had always wanted to be a lawyer, especially since she grew up in an area with considerable pollution and environmental issues that needed regulation and remediation.
When choosing a law school, Haley wanted a school with a strong environmental and natural resource program. She also had lots of family in Texas that were Aggies who encouraged her to come to Texas. While Texas is very different from Ohio and Kentucky, Haley said that Fort Worth has been a fun change. "[Fort Worth] feels like a great mix of big city and small city. I love the atmosphere. I also was looking forward to warmer weather." Before beginning at Texas A&M, Haley spent the summer working at the Grand Canyon.
During her 1L year, Haley attended the Environmental, Energy, and Natural Resource Systems Law Program (EENRSLP) networking events where the Program raffled off invitations to networking luncheons with local lawyers and law firms. Haley won an invitation to attend a Dallas Bar Association's Energy Section CLE where she was able to network with numerous energy law practitioners. After attending the event, Haley reached out to Professor Gabriel Eckstein for advice on revamping her resume and cover letter in preparation for summer 2020 internship applications.
Among the various opportunities Haley applied for was the Mickey Leland Environmental Internship Program (MLEIP) at the Texas Commission on Environmental Quality (TCEQ). The MLEIP places students, both undergraduate, graduate, and law students, in full-time paid summer internships with the TCEQ. Through the program, Haley was placed in TCEQ's Office of Legal Services for ten weeks. During her time there, she conducted regulatory and case law research, attended public meetings and contested case hearings, worked on enforcement matters, and wrote numerous legal research memos for staff attorneys. With the rise of the COVID pandemic, Haley said that TCEQ worked quickly to adapt to the new situation, and she applauded their rapid transition to a virtual environment. "I was not sure what to expect, but they moved to a virtual internship quickly and still incorporated as many virtual networking events as possible," Haley remarked.
Next summer, Haley plans to work with the Environmental Protection Division (EPD) with the Office of the Texas Attorney General. Haley met with EPD attorneys during some of the networking events organized by the TCEQ. She then followed up by expressing interest in the EPD's program and ended up lining up a job for next summer.