TEXAS A&M HOSTS 11TH ANNUAL ENERGY SYMPOSIUM
Energy Law Currents: Reconciling Risk and Return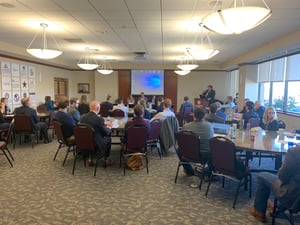 Texas A&M Energy, Environmental, and Natural Resources Systems Law Program celebrated its 11th Annual Energy Symposium February 27-28, 2020 with an opening keynote presentation from Dan Reicher, Executive Director of the Steyer-Taylor Center for Energy Policy and Finance, and Lecturer at Stanford Law School. Reicher presented on recent developments in the fields of wind and hydroelectric energy resources, including floating offshore wind turbines that can self-correct with changes in the weather.
The opening panel, titled "The Hydrocarbon Industry's Approach to Political and Regulatory Risk," was moderated by Texas A&M Law Executive Professor Harry Sullivan, and focused on developments in the oil and gas industry, and featured Texas A&M Law Professor Guillermo Garcia Sanchez, Professor James Coleman from SMU Dedman School of Law, Amanda Ylitalo, of Caple Royalty Services, and Erik Johnston of Daniel Johnston & Co. Garcia shared an international perspective on oil and gas regulation, with a particular focus on increased tensions between the United States and Mexico. Coleman presented on legal issues related to oil and gas pipelines crossing federal waters. Ylitalo discussed managing social and political risks in the oil and gas industry, highlighting some companies' decision-making in electing to spend more on research and development in exchange for decreased liability from potentially expensive oil spills and resulting environmental damage. Lastly, Johnston outlined the balance of risk between government (which is interested in minimally invasive resource extraction and public opinion) and oil companies, which often value efficiency and stability.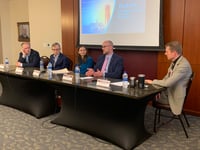 The second panel, "Clean Energy Technologies – Leveling the Playing Field," moderated by Texas A&M Law Professor Felix Mormann, provoked interesting discussion between panelists from the clean energy sector. Lincoln Davies, dean of Ohio State University College of Law, discussed the lifecycle of renewable energy policy. Professor Kevin Jones, from Vermont Law School, discussed the importance of and continued barriers to low income access to solar technology. Lastly, Professor Amy Stein, of the University of Florida College of Law, spoke about incorporating artificial intelligence into the electricity grid to optimize grid access and improve the intermittency of renewable resources.
The second day of the symposium began with a panel titled "Electricity Governance – Toward a new Business Model," which was moderated by Texas A&M Law Professor Gabriel Eckstein. Patricia Zacharie, General Counsel at Ambit Energy, started the panel with a discussion of unforeseen problems resulting from deregulation of the electricity sector, highlighted successes in the Texas deregulation effort, and offered valuable in-house perspectives on change within the industry. Professor Joshua Macy from Cornell Law School presented on the "The Rate Regulation Redux – Capacity Markets as a Solution to the Missing Money Problem in Electricity Generation," arguing that capacity markets can better compensate for flexibility in the utility industry. Professor Joseph Tomain, from the University of Cincinnati School of Law, presented on the Public Utilities Regulatory Policies Act (PURPA) and the movement away from fossil fuels. Professor Lynne Kiesling, of the Institute for Regulatory Law and Economics at Carnegie Mellon University, concluded the panel with her talk on digitization and transactive energy where she credited digitization as a driving factor for effective changes in the utility business model, and advocated for additional incorporation of local grid markets and the transition from the least-cost mindset to value-creation mindset to improve the market.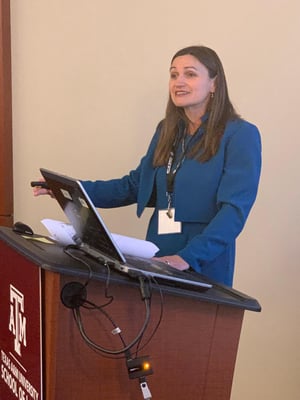 The next panel of the day, which focused on energy law and policy in the cross-disciplinary context, was moderated by Texas A&M Law Professor Timothy Mulvaney. Professor Sanya Carley, from Indiana University's School of Public and Environmental Affairs, presented on improving the policy landscape for electric vehicles, and credited the main drivers of increased sales to state policy and price reductions in the cost of lithium-ion batteries. Professor Richard Denne, from Texas Christian University's Department of Geological Sciences, discussed Texas water rights as they relate to wastewater disposal wells, and highlighted challenges related to commercial disposal wells and surface rights in Texas that allow neighboring properties to interfere with each other's extraction and disposal efforts, especially in shallow formations. Professor Bruce R. Huber, from Notre Dame University School of Law, spoke on nuclear energy and the potential value and efficiency of small modular reactors, but noted that standardization and more efficient supply chains are needed to further reduce cost and risks. Closing the panel was Professor Anastasia Shcherbakova, an applied economist at Texas A&M University, who presented on the impact of information disclosure in mineral interest leasing, and the potential of such disclosures on the cost of capital and royalty rates.
One particularly memorable moment of the symposium was the keynote lunch with Skip Alvarado. Alvarado—who is best known for helping to manage more than 9,000 firefighters from 10 nations to extinguish more than 700 oil well fires in Kuwait that were lit by retreating Iraqi forces following the first Gulf War—shared advice he has gathered over his exciting career with a particular focus on contract negotiations, which he analogizes to playing 3D chess, requiring thinking both forward and backward. He emphasized the importance that negotiations result in an agreement that is equitable for both sides, noted the complexity of working with national oil companies, and highlighted the need to observe cultural norms when negotiating abroad.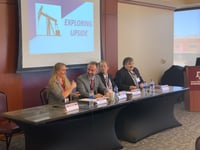 The event concluded with a career panel, moderated by Wesley Lloyd of Freeman Mills, PC, that provided students and young lawyers with insight into careers in the field of energy law. The panel featured Alix Allison of Thompson Knight, Bryan May from Harris, Finley & Bogle, Julie Wright from Freeman Mills, PC, and Executive Professor Harry Sullivan, who serves as in-house counsel to Dallas-based Kosmos Energy. The panelists presented their perspectives on working in large and mid-size law firm settings, as well as in in-house environments, and encouraged students to expand their networks by attending energy-focused events, joining related professional associations, and pursing relevant internships and jobs.