Welcome to the Farm, Big Data
"Assessing the Legal Implications of Big-Data Driven Solutions to Agriculture's Most Pressing Issues"
Law Review Symposium Recap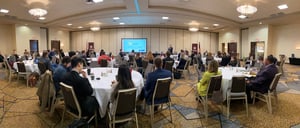 As a result of a generous donation from the G. Rollie White Trust, Texas A&M Law Review is able to host an annual symposium focusing on agricultural law. This year, the symposium occurred January 31, 2020 and addressed technological advances in the agriculture industry for "growing" stronger and more sustainable farms. The event brought together experts in engineering, policy, and law from around the world to impart their perspectives and input on topics such as challenges facing the agricultural industry, economic advancements, and data privacy. Throughout the day, students, speakers, and attendees were able to discuss a wide range of aspects of utilizing big data in agriculture.
Chairing the event was Professor Jim Bradbury, the jack of all trades in the agricultural law field. Professor Bradbury is a well-recognized agricultural attorney focusing on land use, eminent domain, and water law; an adjunct professor at Texas A&M Law; and a board member of the Land Trust Council of Texas who also runs his own law firm with offices in Fort Worth and Austin.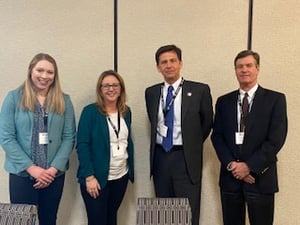 Professor Alex Thomasson, who holds the Texas Cotton Chair at Texas A&M University Department of Biological and Agricultural Engineering, moderated the opening panel which was designed to explain the meaning of "big data in agriculture." He explained that in the context of agriculture, big data provides farmers with information on rainfall patterns, water cycles, and fertilizer requirements, etc., allowing them to make more informed decisions concerning their crops with the goal of producing the highest amounts of farm yields. Hailing from the same department at Texas A&M, Professor Brent Auvermann discussed the importance of big data in 21st-century farming, which he asserted requires these precise measurements in order to feed the growing global population.
Following a short break, the Director of the Centre for Agricultural Engineering at the University of Southern Queensland, Craig Baillie, discussed the drivers and challenges facing the agricultural industry. In particular, he noted that the agriculture industry faces distinct challenges, some of which are beyond the control of farmers, such as: the perishability of products, natural disasters, and extreme weather like droughts. Baillie also emphasized that while big data will never be a panacea, it could certainly mitigate some of the damage and help predict the strength of crops yields.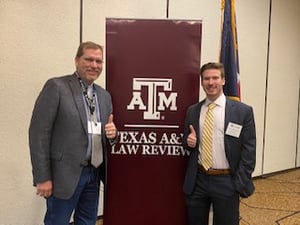 Although new technologies can solve many of the problems addressed above, the majority of farmers still have not implemented them in their fullest capacity. In the largest panel of the event, participants discussed the regulatory landscape facing data privacy in the agriculture sector. Professor Jim Bradbury; Jody Ferris, a transactional attorney at Ballard Spahr, LLP; Director and Counsel for John Deere John Rauber; Jennifer Zwagerman, director of the Drake Agricultural Law Center; and Todd Janzen, President of Janzen Agricultural Law LLC, discussed farmers and ranchers' various perspectives. They explained that these agriculturalists are especially concerned about their privacy when it comes to releasing farm record data, especially when environmental and animal rights groups have used Freedom of Information Acts requests to gather information about their agriculture production operations. Janzen also called for better contracts between farmers and data corporations as a solution to protect farmers from having their information released to the general public.