Q&A with 2L Student Sarah Turner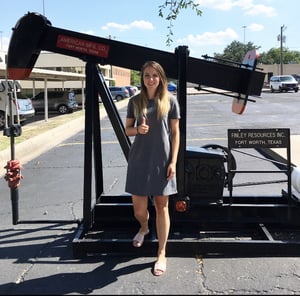 Sarah Turner (2L) works as a legal intern at Finley Resources, Inc., an oil and gas company with mineral interests and operations in Texas, Oklahoma, New Mexico, Utah, and Wyoming. Sarah currently works at the Fort Worth location and primarily performs legal and title research. She also reviews bankruptcy and class action filing notices and assists with mineral interest transfers.
What drew you to this particular field of law? Why did you choose to apply for a position with Finley Resources?
Oil and gas law, especially on the in-house side, has a tendency to be more laid back than other types of legal fields, which makes it a good fit for my personality. However, there is still a ton of work that comes into the office, but the office attire is much more casual and there are things like Thursday breakfasts to look forward to. Therefore, I found that this firm, in particular, was a good blend of the area of law I was interested in coupled with a work lifestyle I was looking for. Finley also has a great reputation in the area for treating its employees well and having good client relations.
What does an average day at work look like for you?
The two biggest functions I perform on an almost daily basis are research and creating/managing spreadsheets. I face a wide range of issues on a daily basis from being asked to look into the legal implications of certain actions to working on on-going projects relating to land and mineral title. Excel is generally the best way to keep up with this research and most effectively categorize the results, so a fair amount of my time is spent jumping between Excel and Lexis.
What are the biggest issues your firm faces on a day-to-day basis?
A week or two ago, I probably would have said matters relating to recent asset acquisitions and company mergers. But in light of the COVID-19 pandemic and the recent market plunge, the focus has shifted largely to the health and safety of employees and getting through these tough times.
Were there any classes or experiences you had at A&M that helped prepare you for your current job?
Contracts, civil procedure, and core commercial concepts have all been helpful. Contracts has probably been the most helpful (sorry 1Ls!). I am frequently asked to research issues relating to contract disputes and alleged breaches.
Describe some interesting aspect of your job:
It is difficult to pick any one thing about my job to describe as interesting, but I do really enjoy my job as it regularly requires me to learn about new things and different areas of the law. Sometimes I have to research issues relating to probate, sometimes land and mineral rights, and other times business filings. I always find it rather exciting to get assigned a new project that involves something I do not know much about and must then research and learn about. It is exciting for me to actually learn things as I go into real-life work.
What advice can you offer to your law student classmates? What can law students do to prepare for work in a firm like yours?
Really, just being prepared to do a wide variety of things every day. Working as in-house counsel at a small or midsize company, you will often be asked to wear many hats and do many different things. This type of job is great for someone who has a sense of spontaneity, or really enjoys switching tasks frequently and is always ready for the unexpected. Just try to always keep an open mind and work hard on the things you are asked to do, even if they are not the most exciting.