The EENRSLP welcomes special guests for Speakers Series
The Future of Water for the Brazos River
Brett Miller '16 presented to the Energy, Environmental, and Natural Resources Systems Law Program on October 31, 2019, about the future of water rights and water allocation in the Brazos River Basin. Miller graduated from Texas A&M School of Law in 2016 and is now an associate attorney with Phelps Dunbar, LLP. He practices commercial litigation focusing on private equity, eminent domain, corporate finance, commercial real estate, water, infrastructure, and oil and gas law. Additionally, he has published in the Duke Environmental Law & Policy Forum (2017), University of Denver Water Law Review (2016), and UCLA Journal of Environmental Law (2016). His presentation focused mainly on the law surrounding water security in Texas.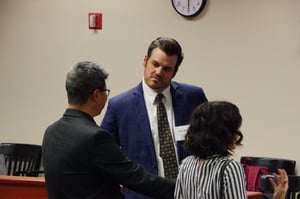 Miller discussed the current conflicts surrounding the allocation of water resources in the Brazos River Basin among Fortune 500 companies, municipalities, landowners, farmers, state agencies, and investors. The heart of the issue revolves around balancing the increased demand for water with the decreased ability to access it. The basin stretches from the New Mexico-Texas border across central Texas down to Houston and touches over 50 Texas counties. Additionally, it is the second-largest river basin in Texas and intersects 42 lakes and reservoirs. The water from the basin serves agricultural producers, municipalities, and private chemical manufacturing plants. Miller explained that the ongoing tension between providing for private industry, the public good, and agricultural production requires more permanent solutions to meet the growing needs of those strained by a burgeoning population as well as the demands that follow.
Miller also highlighted the extensive litigation stemming from the appropriation of water rights between Dow Chemical and BASF Chemical, both of which are located in Houston. The two companies hold a large number of water permits, the largest in quantity in comparison to other permit holders, and sit on the same portion of the basin. This requires the state to ensure enough water is withheld for the needs of upstream users, as well as these large downstream water rights holders. Last year, Texas legislators sent a bill to the governor to force the City of Houston to sell water rights to help address shortages, offer extended water allocation, and increase the cost of water to current permit holders.
In addition, Miller discussed future issues in water allocation that may arise under current structures. He also took the time to answer students' questions about water law and growing issues facing downstream permit holders during times of drought, which Texas faces regularly. Additionally, throughout the meeting, Miller and his audience spoke openly about ongoing changes to the structure of Houston's water system, which reroutes water from various sources through an intricate canal and levy system to reach the manufacturing plants needing water without disrupting the municipal water needed for Houston residents.
---
EENRSLP Speaker Series Hosts Jason T. Barbeau, DOJ ENR Division
On November 11, 2019, the Environmental, Energy, and Natural Resource Systems Program hosted Jason Barbeau, an attorney from the U.S. Department of Justice (DOJ). Barbeau works in the Environmental and Natural Resource Division (ENRD) litigation section of the DOJ. He spoke with students about his career at the DOJ and provided thoughtful advice regarding internship, externships, and employment opportunities available for Texas A&M students.
Barbeau began by explaining the litigation process within the ENRD section. He also unveiled the various positions and perspectives involved and how the ENRD consolidates those views into one cohesive voice. For example, the ENRD litigation section works in conjunction with groups like the Sierra Club and the Natural Resources Defense Council to bring civil claims against private parties. These claims generally consist of multiple interest groups representing the environment, sometimes including landowners, where the ENRD will sue for damages and injunctive relief against a private party or corporation. Barbeau emphasized the importance of his section cooperating with the interest groups because courts will generally listen more closely when there is a collective effort by the organizations to speak with one voice as opposed to individual voices promoting various purposes and messages.
After his explanation of the litigation process, Barbeau touched on other ENRD sections, including environmental defense, environmental criminal prosecution, land acquisition, appellate, and wildlife and marine. He explained what each section does and how students can tailor their applications based on which section they are interested in pursuing. After covering the ENRD sections and their various functions, Barbeau reviewed some intriguing topics regarding environmental law and environmental sciences.
Barbeau discussed the Supreme Court case that involved the Clean Water Act and the State of Hawaii where pollutants drained into the Pacific Ocean, abandoned uranium mines near the West Coast, and the dumping of oil and other contaminants off fishing boats. He explained that each of these topics has far-reaching environmental implications, but the DOJ has to do extensive research before pursuing costly litigation against parties. This dynamic is a common struggle when trying to determine the most efficient way to enforce the law and protect the environment.
Lastly, Barbeau opened the floor to student questions and offered advice on the most beneficial classes for students to take if they want to pursue careers at the DOJ and the ENRD division. He also talked about the balance between environmental justice and financially sound pursuits, which is often difficult because it requires assigning a dollar amount to preserve our environment. He wrapped up his presentation by discussing some of the opportunities available to law students through their clerkship programs, as well as some employment opportunities for the 3Ls graduating in the spring.
---
Environmental Attorney Mark McPherson Presents via Zoom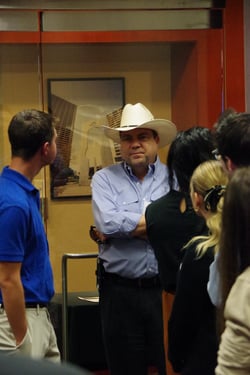 On March 19, 2020 the Texas A&M Energy, Environmental, and Natural Resources Systems Law Program hosted a lunchtime conversation via Zoom with Mark McPherson. McPherson is an attorney in the Dallas area specializing in environmental and water law issues.
McPherson began the event with a discussion on "hot" topics in environmental law. He first highlighted water rights and expressed his concern with the complexities of issues that Texas will face as water supplies continue to remain stagnant while the population grows. He noted challenges with groundwater conservation across the state in light of groundwater's status as being privately owned and the threats of takings litigation. He also highlighted the absence of conjunctive management in which groundwater is regulated separately from surface water resources. Furthermore, he related his concerns that water rights issues are being addressed in the courts rather than the legislature.
McPherson next discussed the growing problem of vapor intrusion -- where chemicals in soil or groundwater at a contaminated site migrate upwards into overlying homes. He explained that some states have reopened old contamination cases and are reassessing vapor intrusion damage as separate and supplemental to the original damage. He also expressed his skepticism at this approach, but noted that this issue is still novel and developing in Texas.
McPherson also addressed agency rulemaking, at the federal and state levels, and especially as it relates to the environment. He discussed the concept known as Chevron Deference, and highlighted its justifications and its shortcomings. He suggested that the concept may evolve, or even be downgraded given the current makeup of the U.S. Supreme Court.
The conversation then shifted to McPherson's current projects including his pro bono work with Sandbranch, a low-income community at the outskirts of Dallas that has been without potable water and sewage services for decades. He discussed some of the legal issues involved in the case, the various negotiations, and the millions in state and federal grants that they have pursued in an effort to bring water and sewage services to the community.
Throughout his presentation, McPherson graciously answered student questions and offered advice on careers in the fields of environmental and water law.
---
EENRSLP Speaker Series Host James McGuire, Director of Environmental Quality and Sustainability for the City of Dallas
On March 27, 2020, James McGuire presented via Zoom to Texas A&M students on the risks of climate change impacting Dallas and Northern Texas in the Texas A&M Energy, Environmental, and Natural Resources Systems Law Program speaker series. McGuire focused his presentation on his role as Director of Environmental Quality and Sustainability for the City of Dallas, and the steps that Dallas has taken to address climate change. McGuire explained that those most likely to be harmed by climate change are often those that have the fewest resources available to fight the impacts. Thus, big cities like Dallas, one of the most populous in the country, that has resources to address these impacts has a social duty to mitigate greenhouse gas emissions in both the public and private sectors.
Among other efforts, McGuire highlighted the city's two biggest sources of CO2 emissions -- transportation and commercial energy -- and explained that, in response, Dallas created the Comprehensive Environmental & Climate Action Plan "CECAP." The CECAP program prioritizes eight goals and objectives, including: (1) Dallas uses renewable, reliable and affordable energy; (2) Dallas's buildings are energy-efficient and resilient; (3) Dallas communities have access to clean, affordable transportation options; (4) Dallas protects its water resources and its communities from flooding and drought; (5) Dallas as a zero-waste community; (6) all Dallas communities have access to healthy, local food; (7) all Dallas communities breathe clean air; and (8) Dallas protects its ecosystems that, in turn, protect public health.
While mitigating climate change is a high priority, the Office of Environmental Quality and Sustainability is also tasked with regulating other environmental hazards, such as discharge permitting, stormwater issues, and illegal dumping from construction sites. Most enforcement claims begin as citizen reports but the office also proactively inspects parties with permits to ensure compliance. When asked what roadblocks to fighting climate change he would remove if he could, McGuire emphasized the challenges of taking all of the actions deemed important due to conflicts between authorities. For example, the current structure in Texas does not allow municipal utilities to make decisions for incentive programs like net metering and solar shades since that is within the jurisdiction of the state. McGuire noted that while Texas municipalities have police powers, preemption, lack of local funding, deregulated markets, partnerships, politics, and community expectations all have be factored in decision-making.
McGuire also touched on the importance of realistic changes. About 2% of emissions within Dallas city limits are actually produced by the City of Dallas, which leaves 98% of emissions originating from the public. The Office of Environmental Quality and Sustainability is primarily concerned with making sure the public makes good choices and incentivize those choices where possible. "Our plans need to be collaborative and realistic. In five years, Texas will still be an oil and gas state so we need to account for both," McGuire said. "More aggressive isn't always more effective. We have to work together with surrounding cities to do what is effective and efficient for Dallas and the surrounding communities together."