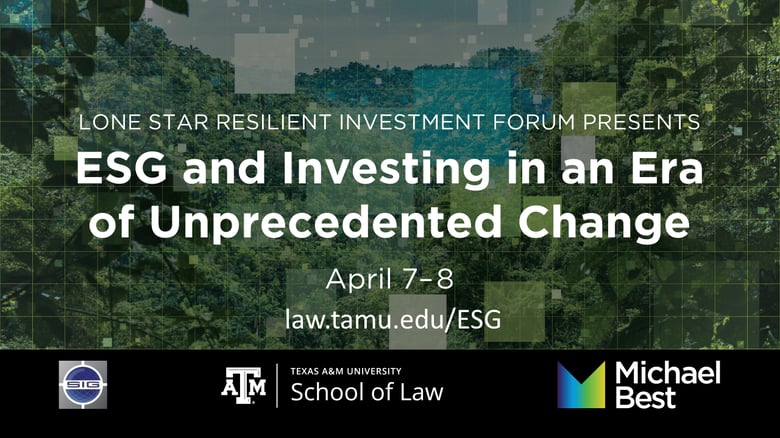 ESG and Investing in an Era of Unprecedented Change
The confluence of economic, political, and even climatic turbulence of the past year— as exemplified by the electric grid failure in Texas—compounded by a deadly global pandemic, has brought into view the critical importance of the private sector in decisions that affect the natural environment, societal structures, and governance mechanisms. Integrating environmental, social and governance ("ESG") practices into decision-making by companies and investors is now more important than ever. Rebuilding our economy requires business to take a more holistic approach to operations and activities. And, it requires an understanding of the impact that ESG factors can have on the sustainability of the private sector, which is vital to mitigating potential business exposure and hazards that occur with increasing frequency, such as systemic, reputational, investment, legal and financial risks.
This conference brings together interdisciplinary perspectives from legal practitioners, investors, and business representatives to explore the risks facing the private sector, and how ESG factors can be integrated into business decisions to benefit both the private sector and the broader community.
► See the agenda with presenter info and panel descriptions.

Video: Interview with Dee Smith, CEO of Strategic Insight Group, and Marianne Dwight, Of Counsel, Michael Best & Friedrich, LLP
• download transcript
---

Video: Interview with Steven Rothstein, Managing Director, Ceres Accelerator for Sustainable Capital Markets, and Marianne Dwight, Michael Best & Friedrich, LLP
• download transcript
---
*CLE information:
This course has been approved for Minimum Continuing Legal Education credit by the State Bar of Texas Committee on MCLE in the amount of 5.0 credit hours, of which 0.0 credit hours will apply to legal ethics/professional responsibility credit.
Registrants must register with your full name, email, and Texas Bar Card Number and attend the symposium CLE sessions in order to receive CLE credit.
Texas A&M School of Law, as CLE sponsor, reported CLE attendance to the State Bar of Texas on April 20 for all verified attendees who are members of the State Bar of Texas and registered with their valid Texas Bar Card Number.
CLE credit is only available for attending the live Zoom session. Watching the video on YouTube is not eligible for CLE credit.
The four panels presented at this conference will be held under the Chatham House Rule. Participants and attendees are free to use the information received, but neither the identity nor the affiliation of any of the speaker(s), nor that of any other participant, may be revealed in any context.
Disclaimer: While some of the panelists are attorneys, they will be discussing the law generally, and nothing in the symposium should be considered as legal advice. Attendees should consult their own legal advisor to address their own unique circumstances.