TAMU Law Answers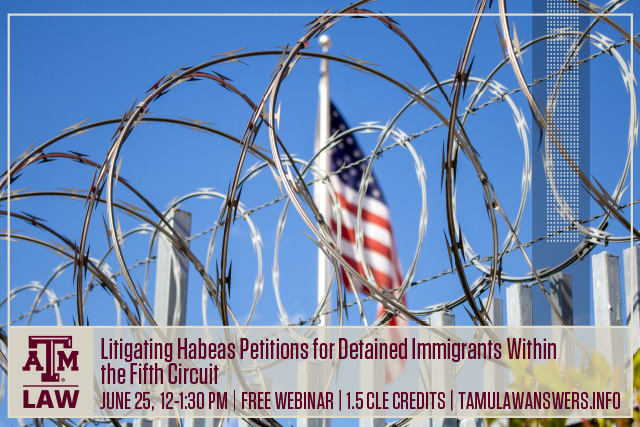 Litigating Habeas Petitions for Detained Immigrants Within the Fifth Circuit
This free CLE webinar addresses substantive and procedural issues involved in litigating habeas petitions for detained immigrants within the jurisdiction of the Fifth Circuit Court of Appeals, including in the context of the COVID-19 pandemic. Attendees asked questions of our experts in a live Q&A session.
1.5 hours of CLE credit* available.
Webinar materials:
Video of webinar: Viewing the video on YouTube is NOT acceptable for accredited CLE hours but is adequate for self-study, per the State Bar of Texas MCLE department. Soon we will be able to provide a link to a platform in which you can watch the video for accredited CLE hours. The video version of the webinar will have a different course number than the live webinar CLE course.
Sample documents:
Date and Time:
Thursday, June 25, 12:00 noon - 1:30 p.m. Central
Discussion Topics:
Nuts and bolts of filing habeas petitions for detained immigrants
Claims based on prolonged detention
Claims based on fact of detention versus conditions of detention
Recent decisions regarding COVID-19 related habeas petitions
Current litigation and advocacy efforts related to COVID-19
Panelists:
Ranjana Natarajan, Director of the Civil Rights Clinic and Clinical Professor, University of Texas at Austin School of Law
Sirine Shebaya, Executive Director, National Immigration Project of the National Lawyers Guild
Moderator: Fatma Marouf, Professor of Law and Director of the Immigrant Rights Clinic, Texas A&M University School of Law
*This course has been approved for Minimum Continuing Legal Education credit by the State Bar of Texas Committee on MCLE in the amount of 1.5 credit hours, of which 0.0 credit hours will apply to legal ethics/professional responsibility credit.

Registrants must register with your full name and email and attend the entire CLE webinar in order to receive CLE credit.
---
While the panelists are all attorneys, they will be discussing the law generally, and nothing in the webinar should be considered as legal advice. Attendees should consult their own legal advisor to address their own unique circumstances.