Law Review Symposium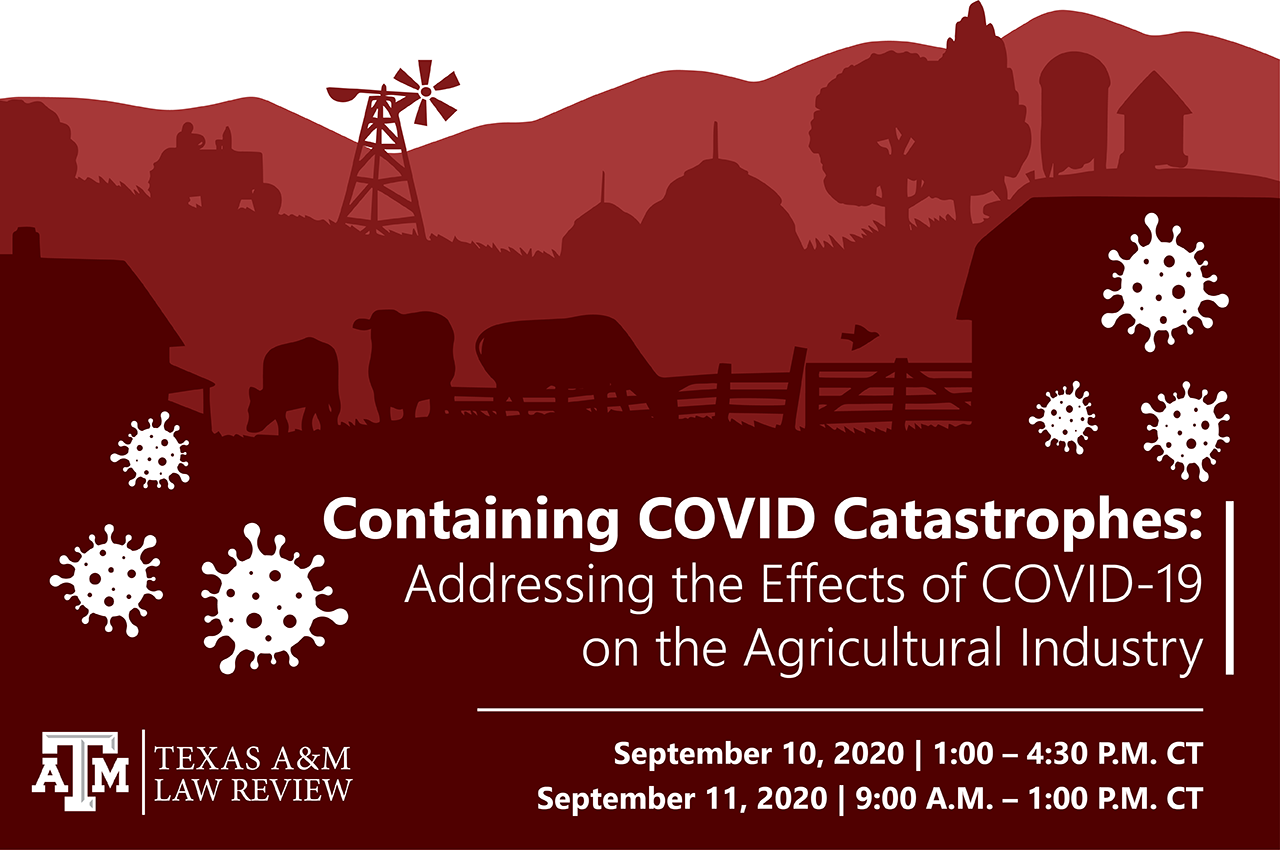 Containing COVID Catastrophes: Addressing the Effects of COVID-19 on the Agricultural Industry
September 10 & 11, 2020
5 hours CLE credit available*
The Texas A&M Law Review is proud to host its fall symposium on September 10 & 11, 2020, "Containing COVID Catastrophes: Addressing the Effects of COVID-19 on the Agricultural Industry." Five hours of CLE credit is available. This free, online symposium is made possible with the generous support of the G. Rollie White Trust.
► Download the agenda.
Topics:
Government Aid
Contract Implications
Labor and Employment Implications
Limiting Liability & Liability Waivers
Upcoming Litigation and Executive Orders
Food Production and Distribution
Implications on the Cattle Industry
Presenters:
Keynote Speaker:

Greg Ibach, Under Secretary for Marketing and Regulatory Programs, USDA
Paul Goeringer, Senior Faculty Specialist and Extension Legal Specialist, University of Maryland
Chelsea Good, Vice President Government & Industry Affairs and Legal, Livestock Marketing Association
Amber Miller, Partner, Crenshaw Dupree & Milam Law Firm, L.L.P.
Harrison Pittman, Director, National Agricultural Law Center/University of Arkansas
Greg Pompelli, Director, Center of Excellence for Cross-Border Threat Screening and Supply Chain Defense, a Department of Homeland Security Science and Technology Center of Excellence
Mike Traxinger; President, American Agricultural Law Association; General Counsel and Director of Governmental Affairs, Agtegra Cooperative
Jennifer Zwagerman; Director, Drake Agricultural Law Center; Assistant Professor of Law, Drake University Law School
Dates and Times:
Thursday, September 10, 1:00 pm – 4:30 pm Central
Friday, September 11, 9:00 am – 1:15 pm Central
Symposium Zoom log-in info:
Registrants will be sent an email with the Zoom log-in information upon registration submission and again the mornings of the symposium (you may need to check your spam or junk folders)
*CLE information:
Registrants must register with your full name, email, and Texas Bar Card Number and attend the symposium CLE sessions in order to receive CLE credit.
This course has been approved for Minimum Continuing Legal Education credit by the State Bar of Texas Committee on MCLE in the amount of 5.00 credit hours, of which 0.00 credit hours will apply to legal ethics/professional responsibility credit.
Texas A&M School of Law, as CLE sponsor, will submit CLE attendance to the State Bar of Texas by September 18 for all verified attendees who registered with their valid Texas Bar Card Number.
While some of the panelists are attorneys, they will be discussing the law generally, and nothing in the symposium should be considered as legal advice. Attendees should consult their own legal advisor to address their own unique circumstances.