The State of Texas vs. Melissa FILM Discussion
Panel discussion with the director and appellate attorney
Friday, October 9, 2020
6:00 pm Central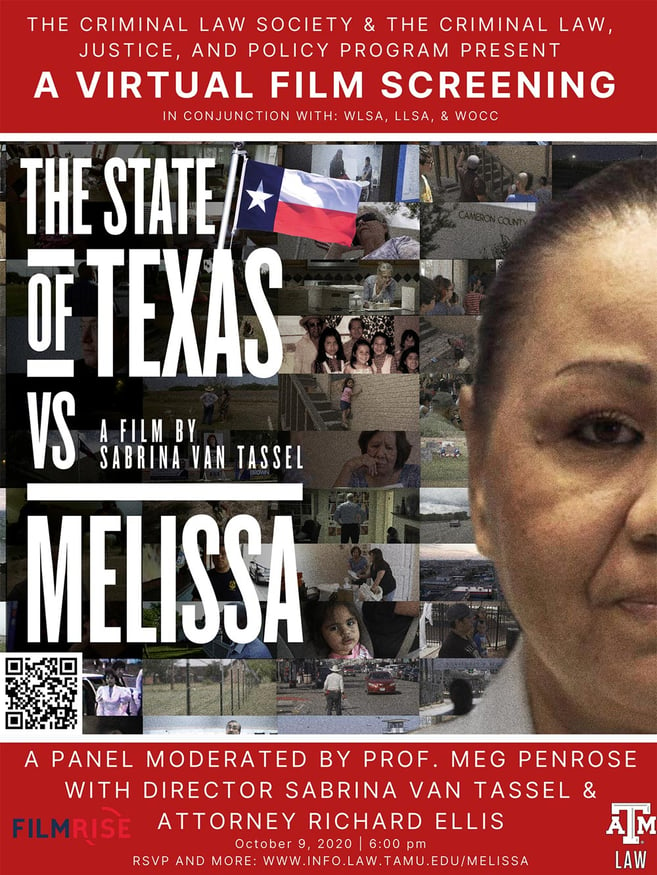 The Criminal Law, Justice, & Policy Program, the Criminal Law Society, the Women's Law Student Association, the Latinx Law Students Association, and the Women of Color Collective Law Student Association are happy to announce a virtual film screening followed by a panel discussion on October 9, 2020, at 6:00 pm.
The film will be available to view for the week before the panel discussion. Anyone who is interested should register to receive a film link and a Zoom link to the panel discussion.
The film, The State of Texas vs. Melissa, was shown at the virtual Tribeca Film Festival this year and will be released in October. This documentary tells the story of the first Latina on death row in Texas. The case is still under appeal.

The panel discussion will be moderated by Professor Meg Penrose and will include the filmmaker, Sabrina Van Tassel, and one of the defendant's appellate attorneys, Richard Ellis.
This is a special opportunity for us to screen a thought-provoking documentary about a current criminal case in Texas before the film is released. We are also fortunate that both the filmmaker and one of the appellate attorneys are able to join for what promises to be an interesting discussion about the case and the film.
---