Aggie Law in San Antonio
Leadership Through Law: Texas A&M's Masters of Jurisprudence program in San Antonio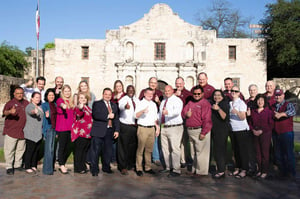 Texas A&M University School of Law brings the knowledge and resources of our outstanding faculty to the San Antonio business community. The Masters of Jurisprudence program is uniquely built from the ground up to meet the needs of individuals seeking to advance their careers in business.
Are you seeking a practical education on the law?
Are you seeking a graduate program that fits your lifestyle and career?
Are you interested in becoming a part of a network, the Aggie network, of 460,000+ strong?