TAMU Law Answers Webinar Series
Excellence in Teaching Professional Responsibility Online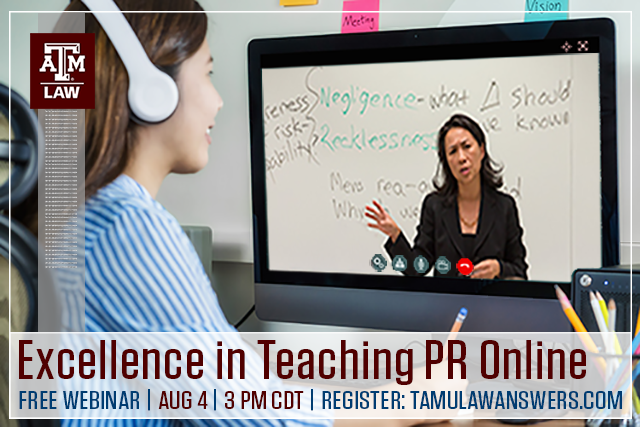 This fall semester many professors will be teaching partially or fully online. The Program for the Advancement of Legal Ethics at Texas A&M University School of Law is hosting a webinar to help you plan and consider best practices for teaching Professional Responsibility courses in the virtual environment.
During the one-hour webinar, attendees will be able to ask questions of our experts in a live, interactive Q&A session.
Following the webinar, interested persons are welcome to remain on the zoom session for an informal discussion of online teaching and the changing environment that impacts teaching of legal ethics and lawyering courses.
Webinar materials:
Presenters:
Alberto Bernabe, Professor of Law, University of Illinois at Chicago, John Marshall Law School
Susan Carle, Professor and Vice Dean, Washington College of Law at American University
Ellen Murphy, Professor of Practice; Associate Dean for Strategic Initiatives, Wake Forest School of Law
Moderator: Susan Saab Fortney, Professor of Law and Director, Program for the Advancement of Legal Ethics, Texas A&M School of Law
Background information:
Date and Time:
Tuesday, August 4, 3:00 p.m. - 4:00 p.m. Central
While the panelists are all attorneys, they will be discussing the law generally, and nothing in the webinar should be considered as legal advice. Attendees should consult their own legal advisor to address their own unique circumstances.