TAMU Law Answers Webinar Series
Private Equity Firms and the Pandemic: Key Players, Key Concerns, and Tough Decisions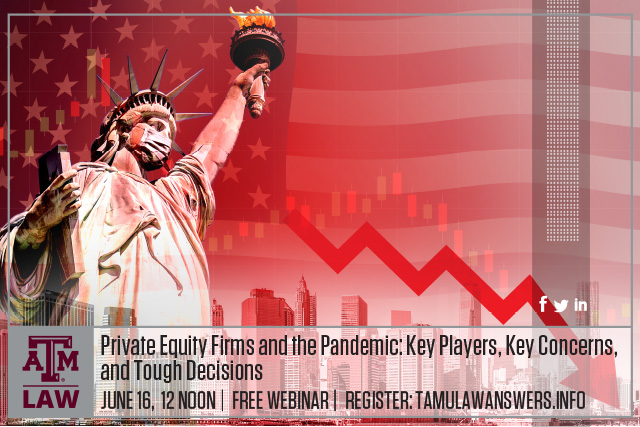 This free webinar explores the world of private equity in the context of the pandemic: the delicate dynamic between investors, private equity firms, and the portfolio companies in which they invest; the effect the pandemic has had on this industry; and how private equity firms are managing and working their way through times of uncertainty and constant change. During the one-hour webinar, attendees were able to ask questions of our experts.
Webinar Materials:
Date and Time:
Tuesday, June 16, 12:00 noon - 1:00 p.m. Central
Discussion Topics:
Key concerns facing investors
Key concerns facing portfolio companies
The fund manager's responsibilities in triaging portfolio companies, managing investors, and holding it all together during unprecedented times
Panelists:
Moderator: Neal Newman – Professor of Law, Texas A&M University School of Law
While the panelists are all attorneys, they will be discussing the law generally, and nothing in the webinar should be considered as legal advice. Attendees should consult their own legal advisor to address their own unique circumstances.