TAMU Law Answers
SOCIAL JUSTICE WEBINAR SERIES
Farmworker Employment Justice
Thursday, April 22, 12:00 Noon Central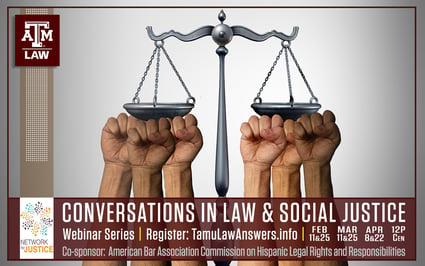 The vast majority of farmworkers in the United States are Latino, immigrant, undocumented workers. Relatively few employment protections exist for these workers, and they are hampered by lack of access to adequate legal services throughout the country. In addition, hundreds of thousands of workers enter the United States every year to work on temporary agricultural visas, which tie workers to their employer and are notorious for facilitating workplace exploitation. This panel discusses:
The opportunities and challenges for farmworkers, both undocumented and visa holders, who seek to enforce their legal rights in the workplace.

The current legal challenge in the U.S. Supreme Court that challenges a California regulation that permits farmworker advocate education at worksites.
Presenters:

The webinar video and transcript will be available here in about 2 weeks.
---

Texas A&M University School of Law and the Network for Justice host this webinar series, co-sponsored by the American Bar Association Commission on Hispanic Legal Rights and Responsibilities, to examine pressing issues in social justice & the law, particularly as they impact the Latinx community.
We encourage students, lawyers, and community leaders who care about social justice and civil rights to join us in these online discussions. Our goal is to engage a variety of people in a multi-generational conversation to help us understand the social justice challenges and opportunities in the United States.
While some of the panelists are attorneys, they will be discussing the law generally, and nothing in the webinar should be considered as legal advice. Attendees should consult their own legal advisor to address their own unique circumstances.