TAMU Law Answers
SOCIAL JUSTICE WEBINAR SERIES
Moving Forward Post-Insurrection
Thursday, February 11, 12:00 Noon Central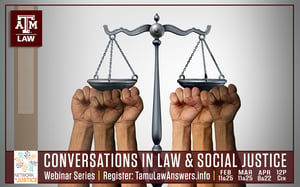 White supremacist movements in the United States have been activated and enlarged as a result of the Trump presidency. Efforts to investigate and hold such movements accountable for unlawful activities have been hamstrung by opposition from mainstream political figures, well before the rise of Trump. These forces culminated in the January 6, 2021 assault on the U.S. Capitol to prevent the certification of President Biden's election victory.
Webinar video:
This panel:
Offers insights into the implications of active white supremacist movements for communities of color in the U.S.

Provides legal, historical, and political science perspectives on the insurrection

Discusses strategies for safeguarding our democracy and moving forward
Panelists:

---
Texas A&M University School of Law and the Network for Justice host this webinar series to examine pressing issues in social justice & the law, particularly as they impact the Latinx community.
We encourage students, lawyers, and community leaders who care about social justice and civil rights to join us in these online discussions. Our goal is to engage a variety of people in a multi-generational conversation to help us understand the social justice challenges and opportunities in the United States.
While some of the panelists are attorneys, they will be discussing the law generally, and nothing in the webinar should be considered as legal advice. Attendees should consult their own legal advisor to address their own unique circumstances.