TAMU Law Answers
SOCIAL JUSTICE WEBINAR SERIES
Justice for Immigrant Youth: An Update on Family Separation
Thursday, March 25, 12:00 Noon Central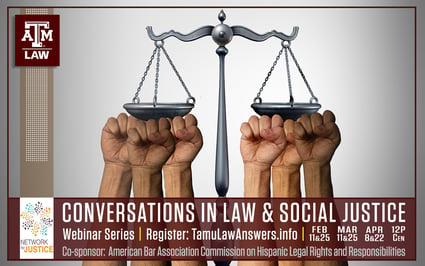 This panel examines the root causes and policies that led to thousands of children being taken away from their asylum seeking parents by the United States government. Panelists will:
Discuss how these policies have been particularly harmful to Black and Indigenous families and the growing likelihood that these families will never be reunited.

Offer an update on family separation and reunification.

Explore the necessary steps and policies needed to make sure this type of atrocity never happens again.
Webinar video:
Presenters:

The recording of this webinar will be available here in 1-2 weeks.
---

Texas A&M University School of Law and the Network for Justice host this webinar series, co-sponsored by the American Bar Association Commission on Hispanic Legal Rights and Responsibilities, to examine pressing issues in social justice & the law, particularly as they impact the Latinx community.
We encourage students, lawyers, and community leaders who care about social justice and civil rights to join us in these online discussions. Our goal is to engage a variety of people in a multi-generational conversation to help us understand the social justice challenges and opportunities in the United States.
While some of the panelists are attorneys, they will be discussing the law generally, and nothing in the webinar should be considered as legal advice. Attendees should consult their own legal advisor to address their own unique circumstances.