CONVERSATIONS IN LAW & SOCIAL JUSTICE WEBINAR SERIES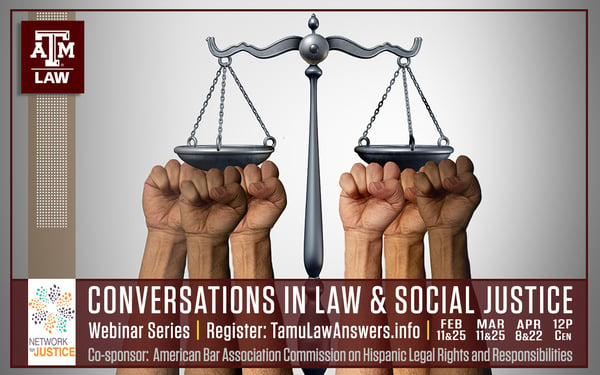 Texas A&M University School of Law, the Network for Justice, and the American Bar Association Commission on Hispanic Legal Rights and Responsibilities host a webinar series to examine pressing issues in social justice & the law, particularly as they impact the Latinx community.
Students, lawyers, and community leaders who care about social justice and civil rights joined us in these online discussions. Our goal is to engage a variety of people in a multi-generational conversation to help us understand the social justice challenges and opportunities in the United States.
Webinars were held every other Thursday at 12:00 noon Central throughout the Spring 2021 semester.
Click on the the webinars below for event details.
Webinar schedule:
---

---
The Network for Justice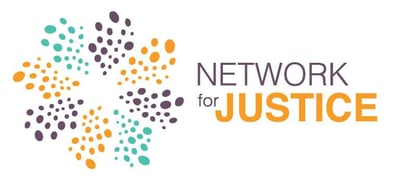 The Network for Justice is a project of the American Bar Foundation committed to transforming Latinx civil rights through sustained collaboration among community organizations, the practicing bar, scholars, law, and policy schools. This project is a part of "The Future of Latinos in the United States: Law, Opportunity, and Mobility," - an initiative that explores how law and policy shapes the incorporation of Latinxs across the nation through four key drivers of opportunity and mobility: immigration; education; economic participation; and political participation and civic engagement. Learn more about what the project already has done by going to our website: futureoflatinos.org.
The American Bar Association Commission on Hispanic Legal Rights and Responsibilities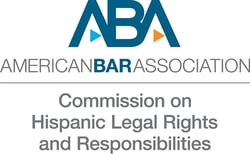 The ABA Commission on Hispanic Legal Rights & Responsibilities focuses on developing and supporting initiatives and research to educate lawyers on how best to serve, promote civic responsibility within, and address the key legal challenges facing Latino community in the United States. Learn more at https://www.americanbar.org/groups/diversity/commission_on_hispanic_legal_rights_responsibilities/.
---
While some of the panelists are attorneys, they will be discussing the law generally, and nothing in the webinars should be considered as legal advice. Attendees should consult their own legal advisor to address their own unique circumstances.
---