MAKING SMART, SAFE CHOICES DURING TAX SEASON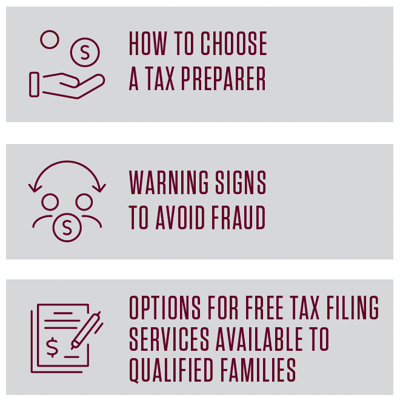 Selecting the right tax preparer who fully understands your needs matters.
WEDNESDAY | January 11 | 5:00 p.m.
United Way of Tarrant County and Texas A&M University School of Law present a FREE educational webinar Wednesday, January. 11, at 5:00 pm. The session will focus on finding a trusted tax preparer and will be hosted by Texas A&M Law tax expert, Bob Probasco.
Volunteer Income Tax Assistance (VITA) provides free tax filing services to families and individuals with incomes of $60,000 or less. VITA has been helping Tarrant County residents with financial stability and resilience for thirteen years through a partnership with the IRS.
The Texas A&M Tax Dispute Resolution Clinic helps qualified clients resolve tax problems with the IRS and recommend changes that prevent problems. Some of the services the clinic provides are representation during IRS audits, challenging audits, and negotiating payment alternatives for taxes owed. Contact the clinic to see if you are eligible.